WE LOVE SURFING
–
SURFING MAKES US HAPPY!
---
WHO ARE WE?
We are surfers, day-dreamers, flow-seekers, and awkward dancers.
We truly believe in the transformative power of surfing, making the world a better place. It has the power:
to inspire,
to deepen ones love to nature and other people,
to raise awareness for sustainability,
to connect people and find friends for life,
and to teach the importance of sacred play.
But the best part is:
It's a great activity that makes lot of fun, keeps you fit, and healthy!
---
OUR VISION?
We want to share our love for surfing with people who are awesome and keen to learn.
We put surf-interested people at the heart of everything we do, informing and inspiring them with trusted content.
Did you know there exist way over 300 surf camps worldwide?
This pure information overload online made us feel uncomfortable. How do you know which one to chose? Which one will suit your needs best? Don't worry, we got you covered!
Our goal is to create more transparency among surf camps, while saving you money and time in order to find one.
Our independent surf magazine gives you the tools to plan your perfect surf trip:
comprehensive surf tutorials,
inspiring ideas on where to surf next,
and in-depth information on surf regions and surf camps.
We are here to help you to focus on what's really important:
Good vibes, nice waves and a truly memorable travel experience.

---
MEET THE FOUNDER
The only thing I want to do more than meet amazing people around the world is to protect our nature for future generations.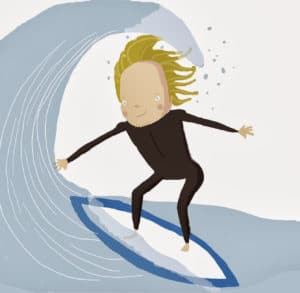 TIM WAVEKICKER
ENDLESS OPTIMIST.
Online marketing enthusiast, with a deep passion for nature and good waves.
When Tim isn't busy surfing or helping people achieving their online marketing goals, he can be found eating large amounts of pizza or geeking out about meditation and minimalism.
(Thank you @ Désirée Nordbusch for that lovely illustration.)
---
LET'S CONNECT
The best part of what we do is getting to connect with people.
Enough about us! Let's connect and share some awesome waves together:
We love to connect. Please be one of those people, find us online and say hi!